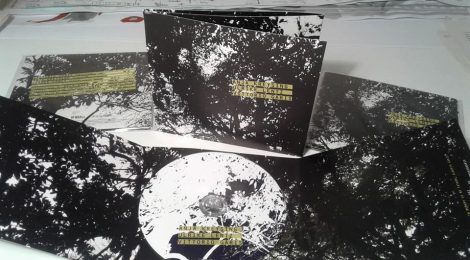 S/T
ANJA KREYSING / ULRIKE LENTZ / VITTORIO GARIS
http://www.setoladimaiale.net/catalogue/view/SM3370
---
Ulrike Lentz _ flutes
Anja Kreysing _ accordion
Vittorio Garis _ percussionThe trio was born from a meeting between three musicians for a concert of improvised music in the Sala Ducale of the suggestive medieval castle of Moncrivello in Piedmont on August 7, 2016. Each one cames from different experiences and collaborations, Anja Kreysing (Münster, GER) Ulrike Lentz (Kassel, GER) Vittorio Garis (Vercelli, ITA), despite their individual improvisational language, creates and maintains a collective tension which, above all in the trio improvisations, succeeds in generating what could become a new common language for future, happy new collaborations. The album was mixed by Marco Trivellato who also made the mastering.
For more info:
www.floete.biz
www.anjakreysing.de
www.soundcloud.com/vittoriogaris
"(…) Di Vittorio Garis vi ho parlato brevemente in altra puntata della rubrica. Uno dei pochi rappresentanti del riduzionismo percussivo in Italia, Garis ha spontaneamente intrapreso un'investigazione in trio con due eccellenti musiciste tedesche: la fisarmonicista Anja Kreysing e la flautista Ulrike Lentz. I tre, dopo essersi "sentiti" reciprocamente su soundcloud, si sono incontrati in Italia per un concerto al Castello medievale di Moncrivello nel vercellese e quasi magicamente hanno costruito una splendida simbiosi improvvisativa: la performance si può trovare alla pagina bandcamp di Ulrike Lentz ma è in programma la registrazione ufficiale [questa] dell'esibizione ed anche un tour per il 2017. "Live at Moncrivello Castle" si distingue per il suo umore sofisticato e delicato al tempo stesso, con approcci discorsivi misteriosi o enigmatici, alternati tra i musicisti: la Lentz è una delle migliori improvvisatrici al flauto della Germania e fa sentire il suo particolare glissato (ultimamente sta anche suonando in tandem con Robert Dick), mentre la fisarmonica spezzettata e trasversale della Kreysing è per me una bella sorpresa. Quanto a Garis il suo set percussivo si compone di una grancassa, un rullante con piatti ed archetto e tanti oggetti (pigne, metalli ed un altoparlante piazzato sulla membrana del rullante e collegato ad un app che fornisce un suono drone): nelle fasi a lui dedicate è perciò un effetto elettro-acustico che si vuole dominare, una vibrazione che parte dalle sue mani e proietta spesso in paradisi della sensazione e delle immagini liminali che vengono condivise nelle motivazioni umorali dalle sue partners." Ettore Garzia, Percorsi Musicali, 2016.
01 _ Trio 5:26
02 _ Flute 4:12
03 _ Perc&Acc 5:41
04 _ Perc Solo 5:25
05 _ Perc&Flute 4:46
06 _ Accordion 2:08
07 _ Flute&Acc 3:39
08 _ Trio 7:54
(C) + (P) 2017